HAIR LOSS CAUSE
(ANDROGENIC ALOPECIA OR MALE PATTERN BALDNESS)
Male androgenic alopecia (male pattern balding) is the most common form of hair loss seen in post-pubertal males, and readily identified by its familiar pattern of progression.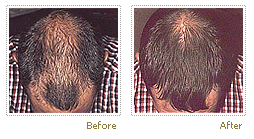 Until recently it was believed male hair loss was not a sex-linked characteristic (i.e. not transmitted on the X or Y chromosomes) and we could inherit the problem from either parent. However a 2005 German study found the X-linked androgen receptor (AR) genes – which we inherit from our mothers – to be the major determinant in early male hair loss.
The management of male genetic hair loss is generally straightforward and uncomplicated. Young males seeking advice should always be encouraged to consult a trained professional for genuine, non-biased options to their particular problem.
Other general causes of hair loss in males are alopecia areata, poor dietary habits, illness/accidents, surgical procedures (especially where significant blood loss has occurred), certain prescription or illicit drugs (including anabolic steroids), or severe stress.
For a more detailed explanation of men's hair loss click here.
FEMALE OR WOMENS HAIR LOSS AND THINNING HAIR
The incidence of androgenic alopecia in women has steadily increased over the past decades, and is now thought to occur at least as frequently in the general female population as it does with males.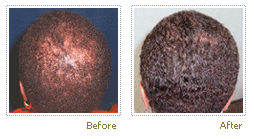 Tony Pearce was the first to identify two forms of androgenic alopecia in women – true genetically-inherited type, and 'acquired' androgenic alopecia from metabolic/hormonal compensatory mechanisms.
Other common causes of hair loss in women are nutritional – principally low iron levels – and metabolic disordering such as thyroid, blood sugar, or liver detoxification problems.
A temporary & self-correcting diffuse hair fall is often initiated by events such as childbirth, commencing/ceasing certain medication, febrile illness, blood loss in surgical procedures, or combination intravenous antibiotics for severe infections.
Overwhelming emotional/physiological shock or unremitting stress may also be the foundation for excessive hair loss. Autoimmune diseases – sometimes leading to permanent hair loss – are a regularly seen cause of alopecia in both sexes.
For a more detailed explanation of female hair loss, click here.
WE ARE COMMITTED TO QUALITY CLIENT CARE
Our success is derived from the synergy of using our acclaimed combination approach to hair loss management.
There are many reasons why a person will experience hair loss. In some cases, nutritional and hormonal intervention (women) can play a key role in optimizing your results. Please feel free to call us for a phone consultation or schedule an in-clinic consultation at your convenience.
We invite you to contact us with any questions you may have. An experienced professional will be more than happy to provide straight forward answers to your questions, either over the telephone or in a FREE, private, confidential meeting, at a time that is convenient for you.
If you would like to visit us in person to explore your options, please call us at (703) 914-4247, or complete the form on the right.